Rotary Feedthrough, Magnetic Coupling Type, Bellows Type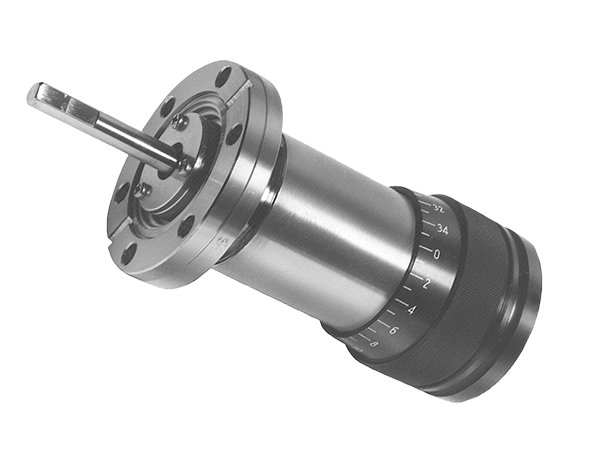 This is a rotary feedthrough to introduce rotary motion into equipment installed in vacuum. It can be used in ultra-high vacuum range up to 10-8Pa. Magnetic coupling type rotary feedthrough and bellows type rotary feedthrough are available.
Components
Features
High transfer torque
Various models are selectable according to application: from 3 kg·cm up to 100 kg·cm high torque type.
Capable of bake-outs
Uses vacuum brazing joints without any elastomer seal, making it suitable for ultra-high vacuum system.
Capable of motor drive
Two kinds of drives systems are available: manual or motor. (954-7630 is manual only)
Specifications
Rotary Feedthrough Magnetic Coupling Type
Type
954-7603
954-7604
954-7605
954-7606
954-7607
Drive system
Magnetic coupling
Connection flange
φ34ICF
φ70ICF
Drive shaft diameter
φ6
φ8
φ12
Drive system
Manual and motor drive
Transfer
torque
Manual
0.5N·m
1.6N·m
1.6N·m
5.9N·m
9.8N·m
Motor
drive
0.44N·m
1.42N·m
1.42N·m
5.3N·m
8.8N·m
Allowable rotation
speed
500RPM
Allowable heating
temperature
*100℃
**100℃
***100℃
**100℃
Leak
1.3×10-11Pa·m3/sec or less
Weight
0.72kg
2.6kg
2.5kg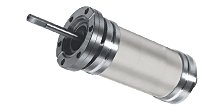 Rotary Feedthrough Bellows Type
Type
954-7620
954-7630
954-7640
Drive system
Bellows
Connection flange
φ70ICF
φ34ICF
Drive shaft diameter
φ8
φ6
Drive method
Manual
Motor drive
Manual
Manual
Motor drive
Transfer torque
2N・m
1.2N・m
0.3N・m
1N・m
0.6N・m
Allowable heating
temperature*
200℃
Allowable rotation
speed
-
100rpm
-
-
200rpm
Leak
1.3×10-11Pa・m3/sec or less
1.3×10-11Pa・m3/sec or less
Used material
Main body SUS-304
Bellows SUS-304
Weight
1.15kg
0.33kg
0.74kg
Applications
For simple rotating inlet such as shutter.
For simple rotating inlet such as shutter.
For motor drive or high-precision, high-torque rotating inlet using mini ICF port.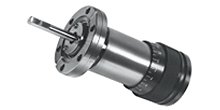 Rotary Feedthrough, Magnetic Coupling Type, Bellows Type