Linear Feedthrough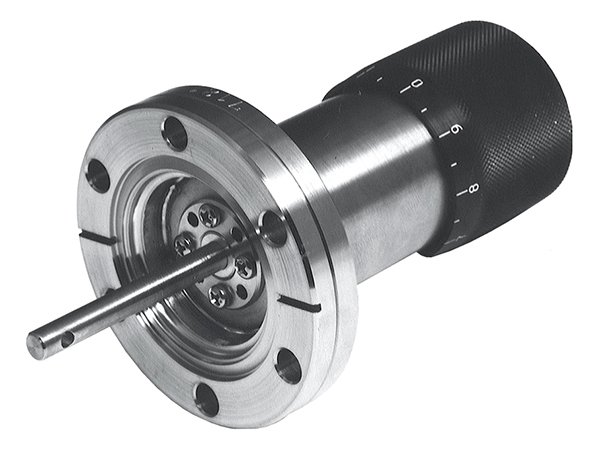 This is a linear feedthrough to introduce linear motion into equipment installed in vacuum. It can be used in ultra-high vacuum range up to 10-8Pa.
Components
Features
All-metal and capable of hard baking, suitable for ultra-high vacuum systems.
This is a bellows type linear feedthrough, with the vacuum side and the air side completely separated by a bellows.
Introduces linear motion into vacuum by using the expansion and contraction of the bellows, preventing the leaks during operation.
Specifications
Type
Name
Drive system
Connection
flange
Linear
movement
Allowable
maximum
thrust
Allowable
heating
temperature
Weight
Backlash
954-7621
Linear motion drive
Bellows translatory movement
φ70ICF
20mm
196N
300℃
0.6kg
±0.5mm or less
954-7622
Linear motion drive
↑
φ70ICF
40mm
196N
300℃
0.7kg
954-7623
Mini linear motion drive
↑
φ34ICF
20mm
147N
300℃
0.48kg
954-7626
Mini linear motion drive
↑
φ34ICF
25mm
147N
200℃
0.9kg
±0.3mm or less
954-7627
Mini linear motion drive
↑
φ34ICF
40mm
147N
200℃
1.1kg
Other common specifications
Leak: 1.3×10-11Pa·m3/sec or less