Ultra-High Vacuum Flange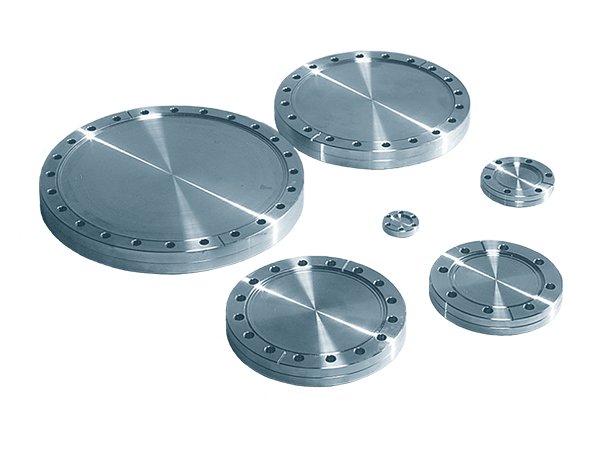 ICF flange is a metal seal flange that is the most reliable and easy to handle out of all existing ultra-high vacuum flanges. ICF flange uses a custom gasket made of oxygen-free copper.
Components
Features
Elastically seals the gasket by applying the "Capturing" theory.
Holds the pressure up to 10-10Pa.
Leak-free within the temperature range of -196℃ to +450℃.
It is a completely symmetrical flange without gender.
Capable of connecting to any flange with the same diameter. Rotatable flange allows you to install in any direction.
The sealing gasket is made from copper sheet (oxygen-free copper), specially treated for ultra-high vacuum.
The flange material is stainless steel (SUS304).
Specifications
ICF Fixed Flange Table
No.

Flange Type

Shape

A

B

B1

C

T

T1

φH

n

P.C.D.

Applicable bolt

Applicable




gasket




pack

Applicable




pipe

1
954-9401
a
34

Blank

-
-
7.5
-
4.5
6
27
M4×20L
953-9210
-
2
954-9402
b
6
φ6×φ4
3
954-9403
8
φ8×φ5.6
4
954-9404
10
φ10×φ8
5
954-9405
12.8
φ12.7×φ10.7
6
954-9427
c
19.2
16
φ19.1×φ16.7
7
954-1091
M4
M4×16
8
954-7051
d
70

Blank

-
-
12.7
-
6.7
6
58.7
M6×35L
953-5014
-
9
954-1101
e
20
17
5.3
φ19.1×φ16.7
10
954-1102
26.5
23.5
φ25.4×φ23
11
954-1103
33
30
φ32×φ29.6
12
954-1104
39
35.5
φ38×φ35
13
954-1105
42
38.5
φ41×φ38
14
954-1191
M6
M6×22L
15
954-7052
d
114

Blank

-
-
17.5
-
8.4
8
92.2
M8×45L
953-5015
-
16
954-1201
e
64.5
61
9.5
φ63.5×φ60.2
17
954-1291
M8
M8×30L
18
954-7053
d
152

Blank

-
-
20
-
8.4
16
130.3
M8×50L
953-5016
-
19
954-1301
e
103
97
11
φ101.6×φ95.6
20
954-1391
M8
M8×40L
21
954-7054
d
203

Blank

-
-
22
-
8.4
20
181.1
M8×55L
953-5017
-
22
954-1401
e
155.5
148.5
12.5
φ153×φ147
23
954-1491
M8
M8×40L
24
954-7055
d
253

Blank

-
-
25
-
8.4
24
231.9
M8×60L
953-5048
-
25
954-1501
e
205.5
198.5
12.5
φ203×φ197
26
954-1591
M8
M8×45L
ICF Rotatable Flange Table
No.

Flange Type

Shape

A
B
B1
C
T
T1
H
n
P.C.D.

Applicable




pipe

1
954-9420
a
34
16
19.2

Blank

7.5
14
4.5
6
27

-

2
954-1052
b
6
φ6×φ4
3
954-1053
b
8.2
φ8×φ5.6
4
954-1051

e

-

13.2
φ19.1×φ16.7
5
954-1150
d
70

Blank

-

-

12.7

-

6.7
6
58.7

-

6
954-1151
e
20
17
5.3
φ19.1×φ16.7
7
954-1152
e
26.5
23.5
φ25.4×φ23
8
954-1153
e
33
30
φ32×φ29.6
9
954-1154
e
39
35.5
φ38×φ35
10
954-1250
d
114

Blank

-

-

19

-

8.4
8
92.2

-

11
954-1251
e
64.5
61
9.5
φ63.5×φ60.2
12
954-1350
d
152

Blank

-

-

21

-

8.4
16
130.3

-

13
954-1351
e
103
97
11
φ101.6×φ95.6
14
954-1450
d
203

Blank

-

-

24

-

8.4
20
181.1

-

15
954-1451
e
155.5
148.5
12.5
φ153×φ147
16
954-1550
d
253

Blank

-

-

25

-

8.4
24
231.9

-

17
954-1551
e
205.5
198.5
12.5
φ203×φ197
Large Diameter ICF Fixed Flange Table
No.

Flange Type

Shape

φA
φB
(

Note 2

)
θ
(

Angle

)
T
T1
(

*3

)
φH
n
P.C.D

Applicable




bolt/nut/washer

Applicable




Gasket




Type




(*5)

Applicable
pipe


Outside




diameter




×




Inside




diameter

Type

Dimensions

1
(

*1

)
954-1611
a
305

Blank

11°15′
28

-

8.4
32
284
953-7801
M8×70L
953-7131

-

2
(

*2

)
954-1612
b
305
250
11°15′
28
150
8.4
32
284
953-7801
M8×70L
953-7131
φ250×φ244
3
(

*3

)
954-1622
c
305
250
11°15′
28
150
M8


(*4)

32
284
953-7811
M8×50L
953-7131
φ250×φ244
4
954-1701
a
356

Blank

12°
28.5

-

10.5
30
325.4
953-7802
M10×70L
953-7132

-

5
954-1712
b
356
295
12°
28.5
150
10.5
30
325.4
953-7802
M10×70L
953-7132
φ295×φ289
6
954-1722
c
356
295
12°
28.5
150
M10


(*4)

30
325.4
953-7812
M10×50L
953-7132
φ295×φ289
7
954-1801
a
406

Blank

12°
28.5

-

10.5
30
381
953-7802
M10×70L
953-7133

-

8
954-1812
b
406
350
12°
28.5
150
10.5
30
381
953-7802
M10×70L
953-7133
φ350×φ344
9
954-1822
c
406
350
12°
28.5
150
M10


(*4)

30
381
953-7812
M10×50L
953-7133
φ350×φ344
Large Diameter ICF Rotatable Flange Table
No.

Assembly




Type

Receive flange

Inside flange

φA
φB


(*3)

θ
(

Angle

)
T
T1


(*4)

φH
n
P.C.D

Applicable pipe




Outside diameter




×




Inside diameter

Type

Shape

Type

Shape

1
(

*2)

954-1661
954-1670
R
954-1681
a
305

Blank

11°15′
28

-

8.4
32
284

-

2


(*2)

954-1662
954-1670
R
954-1682
b
305
250
11°15′
28
150
8.4
32
284
φ250×φ244
3
954-1751
954-1760
R
954-1771
a
356

Blank

12°
28.5

-

10.5
30
325.4

-

4
954-1752
954-1760
R
954-1782
b
356
295
12°
28.5
150
10.5
30
325.4
φ295×φ289
5
954-1851
954-1860
R
954-1871
a
406

Blank

12°
28.5

-

10.5
30
381

-

6
954-1852
954-1860
R
954-1882
b
406
350
12°
28.5
150
10.5
30
381
φ350×φ344
ICF Zero-Length Flange Adaptor Table
No.

Conversion




ICF




Type

I flange

II flange

φA
φB
T
M

ICF size

Applicable




gasket

*

Applicable




bolt

ICF size

Applicable




gasket

Applicable




bolt

1
952-7010
φ70ICF
953-5014
M6×35L
φ34ICF
953-9210
M4×12L
70
17
12.7
6-M4

(Depth6)

2
952-7020
φ114ICF
953-5015
M8×45L
φ34ICF
953-9210
M4×14L
114
17
17.5
6-M4

(Depth9)

3
952-7021
φ114ICF
953-5015
M8×45L
φ70ICF
953-5014
M6×22L
114
38
17.5
6-M6(Depth10)
4
952-7030
φ152ICF
953-5016
M8×50L
φ34ICF
953-9210
M4×14L
152
17
20
6-M4

(Depth9)

5
952-7031
φ152ICF
953-5016
M8×50L
φ70ICF
953-5014
M6×22L
152
38
20
6-M6(Depth10)
6
952-7032
φ152ICF
953-5016
M8×50L
φ114ICF
953-5015
M8×25L
152
65
20
8-M8(Depth10)
7
952-7040
φ203ICF
953-5017
M8×55L
φ34ICF
953-9210
M4×14L
203
17
22
6-M4(Depth9)
8
952-7041
φ203ICF
953-5017
M8×55L
φ70ICF
953-5014
M6×22L
203
38
22
6-M6(Depth10)
9
952-7042
φ203ICF
953-5017
M8×55L
φ114ICF
953-5015
M8×25L
203
65
22
8-M8(Depth10)
10
952-7043
φ203ICF
953-5017
M8×55L
φ152ICF
953-5016
M8×30L
203
103
22
16-M8(Depth10)
11
952-7050
φ253ICF
953-5048
M8×60L
φ34ICF
953-9210
M4×14L
253
17
25
6-M4(Depth9)
12
952-7051
φ253ICF
953-5048
M8×60L
φ70ICF
953-5014
M6×22L
253
38
25
6-M6(Depth10)
13
952-7052
φ253ICF
954-5048
M8×60L
φ114ICF
953-5015
M8×25L
253
65
25
8-M8(Depth12)
14
952-7053
φ253ICF
953-5048
M8×60L
φ152ICF
953-5016
M8×30L
253
103
25
16-M8(Depth12)
15
952-7054
φ253ICF
953-5048
M8×60L
φ203ICF
953-5017
M8×30L
253
154
25
20-M8(Depth12)