Ion Pump/Noble Pump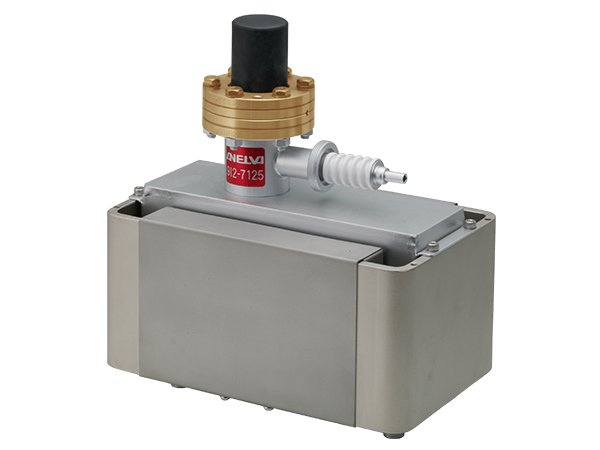 Ion pump/noble pump is an ultra-high vacuum pump which utilizes the gas adsorption properties of the cathode material sputtered by cold cathode discharge within a magnetic field and the continuous formation of active getter film by sputtering cathode material (Ti) during collision with the cathode.
Components
Features
Fully oil free


Clean vacuum can be obtained without contaminating the system because no organic materials, such as oil, are used. Ultra-high vacuum, extreme high vacuum

Ultra-high vacuum, extreme high vacuum
Ion pump/noble pump is best suited for creating extreme high vacuum in the range from 10-1Pa to 10-9Pa.
Unattended operation
Only electrical power is required making it convenient for night time unattended or remote operation.
Inert gas pumping (noble pump)
Improved inert gas pumping speed compared to diode ion pump. (Approximately 21% of air with argon)
Applications
Fully oil free ultra-high vacuum and extreme vacuum pumping systems
Electron microscopes, surface analyzers
Particle accelerators, nuclear fusion experimental devices, space environmental testing equipment
Vacuum retention pump for electron tubes, etc.
Specifications
20L/s Ion Pump, Noble Pump
Pump
Name
20L/s Ion Pump
20L/s Nobel Pump
Type
912-7125
912-7120
Pumping speed (N2

gas)
20L/s
Operating range(Note 1)
10-1

to 10-9Pa
1 to 10-9Pa
Ready to start
pressure(Note 1)
1.3 Pa or less
6.7 Pa or less
Capacity
1.4L
Maximum heating
temperature
250℃
Inlet
φ70ICF
Current input terminal
Non-replaceable
Element (replaceable)
Non-replaceable
Magnet
912-7121(×1) included
Weight
10.5kg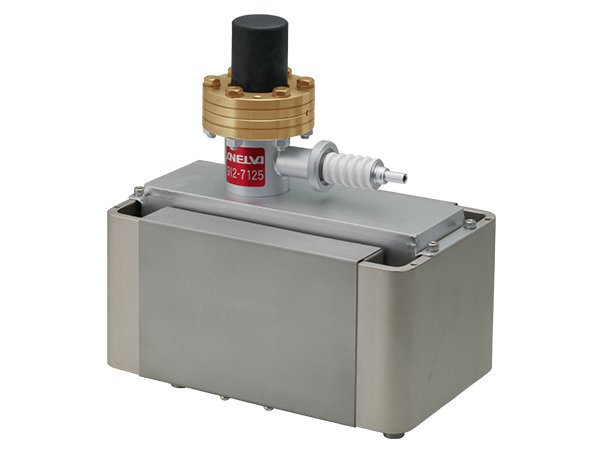 30L/s Ion Pump, Noble Pump
Pump
Name
30L/s Ion Pump
20L/s Nobel Pump
Type
912-7135
912-7130
Pumping speed (N2

gas)
30L/s
Operating range(Note 1)
10-1

to 10-9Pa
1 to 10-9Pa
Ready to start
pressure(Note 1)
1.3 Pa or less
6.7 Pa or less
Capacity
2.2L
Maximum heating
temperature
250℃
Inlet
φ114ICF
Current input terminal
954-7281
Element (replaceable)
Non-replaceable
Magnet
912-7121 (×1) included
Weight
12.5kg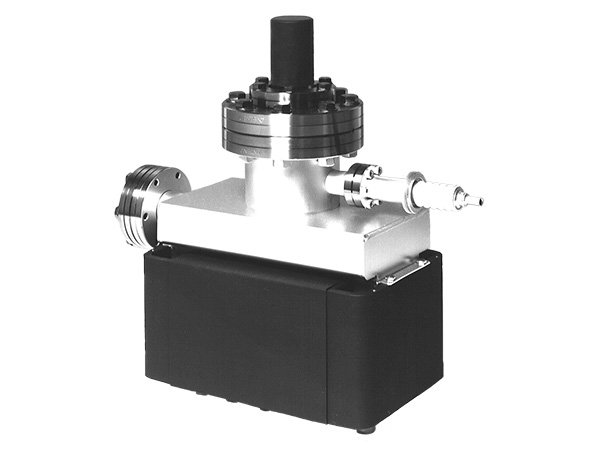 60L/s Ion Pump, Noble Pump
Pump
Name
60L/s Ion Pump
60L/s Nobel Pump
Type
912-7165
912-7160
Pumping speed (N2

gas)
60L/s
Operating range(Note 1)
10-1

to 10-9Pa
1 to 10-9Pa
Ready to start
pressure(Note 1)
1.3 Pa or less
6.7 Pa or less
Capacity
6.2L
Maximum heating
temperature
250℃
Inlet
φ152ICF
Current input terminal
954-7281
Element (replaceable)
915-7027 (1set)
915-9527 (1set)
Magnet
912-7121 (×2) included
Weight
25.6kg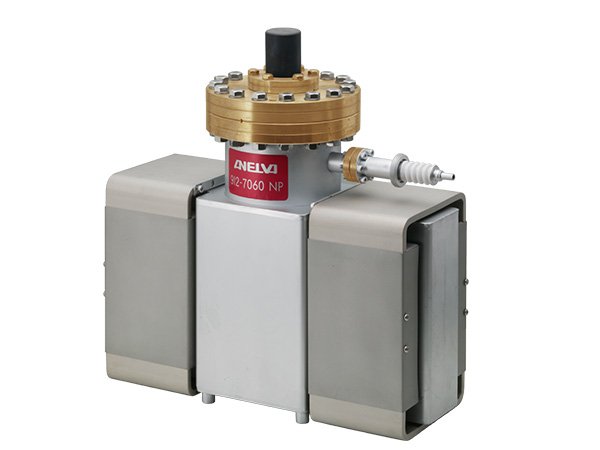 110L/s Noble Pump, 140L/s Ion Pump
Pump
Name
110L/s Nobel Pump
140L/s Ion Pump
Type
912-7020
912-7010
Pumping speed (N2

gas)
110L/s
140L/s
Operating range(Note 1)
1 to 10-9Pa
10-1

to 10-9Pa
Ready to start
pressure(Note 1)
6.7 Pa or less
1.3 Pa or less
Capacity
18L
Maximum heating
temperature
250℃
Inlet
φ203ICF
Current input terminal
954-7281
Element (replaceable)
915-9520 (×1)
915-9510 (×1)
Magnet
912-7001 (×1) included
Weight
48kg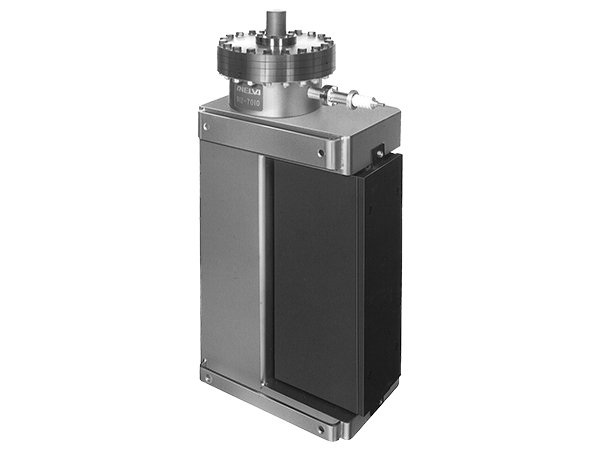 220L/s Noble Pump
Pump
Name
220L/s Noble Pump
Type
912-7040
912-7041
Pumping speed (N2

gas)
220L/s
Operating range(Note 1)
5×10-1

to 10-9Pa
Ready to start
pressure(Note 1)
3.4 Pa or less
Capacity
26L
28L
Maximum heating
temperature
250℃
Inlet
φ203ICF
Current input terminal
954-7281
Element (replaceable)
915-9510 (x2)
Magnet
912-7002 (×1) included
912-7001 (×2) included
Weight
85kg
90kg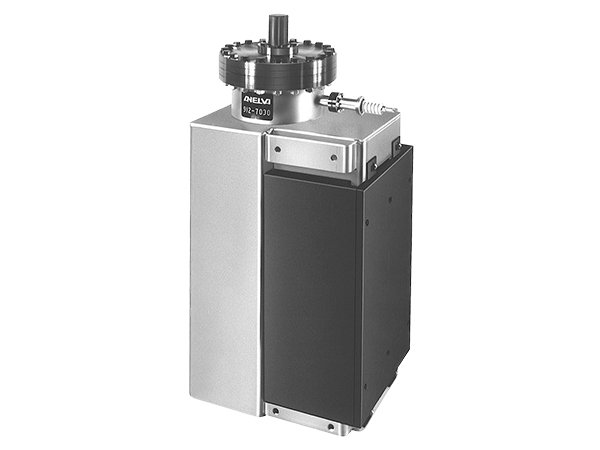 270L/s Ion Pump
Pump
Name
270L/s Ion Pump
Type
912-7030
912-7031
Pumping speed (N2 gas)
270L/s
Operating range(Note 1)
5×10-2 to 10-9Pa
Ready to start
pressure(Note 1)
6.5×10-1Pa or less
Capacity
26L
28L
Maximum heating
temperature
250℃
Inlet
φ203ICF
Current input terminal
954-7281
Element (replaceable)
915-9510 (x2)
Magnet
912-7002 (×1) included
912-7001 (×2) included
Weight
85kg
90kg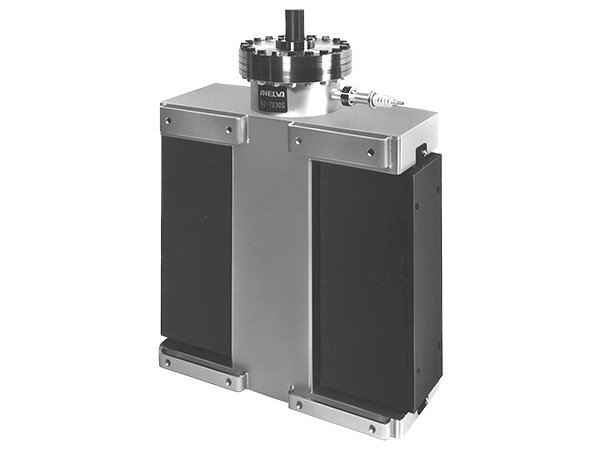 400L/s Noble Pump, 500L/s Ion Pump
Pump
Name
400L/s Nobel Pump
500L/s Ion Pump
Type
912-7060
912-7050
Pumping speed (N2

gas)
400L/s
500L/s
Operating range(Note 1)
1 to 10-9Pa
10-1

to 10-9Pa
Ready to start
pressure(Note 1)
6.7 Pa or less
1.3 Pa or less
Capacity
38L
Maximum heating
temperature
250℃
Inlet
φ203ICF
Current input terminal
954-7281
Element (replaceable)
915-9520 (×4)
915-9510 (×4)
Magnet
912-7002 (x2) included
Weight
120kg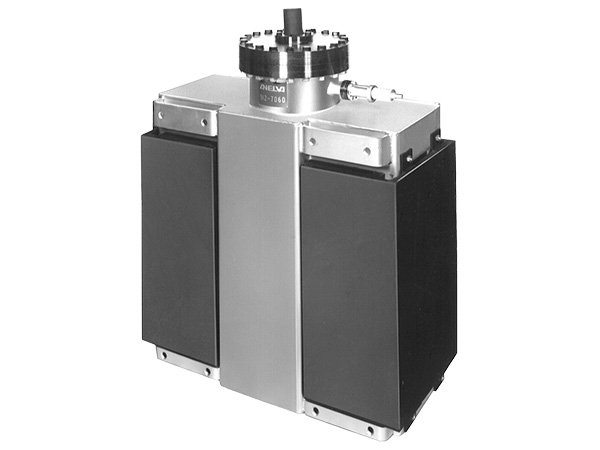 800L/s Noble Pump, 1000L/s Ion Pump
Pump
Name
800L/s Nobel Pump
1000L/s Ion Pump
Type
912-9110
912-7190
912-9100
912-7195
Pumping speed (N2

gas)
800L/s
1000L/s
Operating range(Note 1)
10-2

to 10-9Pa
10-3

to 10-9Pa
Ready to start
pressure(Note 1)
1.3×10-1

Pa or less
1.3×10-2

Pa or less
Capacity
106L
Maximum heating
temperature
250℃
Inlet
φ326CS flange
φ356ICF
φ326CS flange
φ356ICF
Current input terminal
954-7281
Element (replaceable)
912-9520 (×8)
915-9510 (×8)
Magnet
912-7003 (×2) included
Weight
257kg