Roots Type MU Series for Light Process Roots Type Dry Pump MU100N/300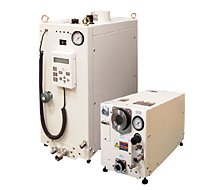 World smallest, minimum energy level roots type dry pump for light process.
Components
Features
Compact and light weight
Compact light-weight, high performance pump providing 1660L/min pumping performance with 230mm×450mm (0.1㎡) footprint
Energy saving
•MU100N power consumption at ultimate pressure: 0.7kW (46% less compared to previous type)
•Cooling water: 2L/min (43% less compared to previous type)
•Reduced nitrogen purge consumption with no nitrogen purging required for clean use. (Nitrogen purge required for Ar pumping.)
Applications
Light processes
Specifications
Type
MU100N
MU300
Maximum pumping rate (L/min)
1,660
5,000
Ultimate pressure

 

(Note1)

 

(Pa)
1.5
0.5
Maximum inlet pressure
Atmospheric pressure
Maximum pumping-port pressure
Atmospheric pressure
Intake flange
NW50
Pumping-port flange
NW25
Cooling water
Maximum supply pressure(MPa)
0.5 (gauge pressure) IN-OUT difference: 0.2 or greater
Flow(L/min)
2 to 3 (Temperature: 10 to 25℃)
Connection port diameter
Rc1/4 (with self-sealed coupler)
Rc3/8 (with self-sealed coupler)
Nitrogen
Supply pressure(MPa)
0.1 to 0.7 (gauge pressure)
Flow

 

(Note2)

 

(L/min)
0 or 5
0 to 10
Connection port diameter
1/4"pipe joint
Power supply voltage
3 phase 200 to 220VAC 50/60Hz
Power supply capacity (kVA)
4.0
7.0
Power consumption

 

(Note3)

 

(kW)
0.7
0.9
Operating environment temperature range (℃)
5 to 30℃
Weight(kg)
60
100
Dimensions L×W×H (mm)
450×230×275
450×230×550
1) Indicates value without nitrogen purge.
2) Nitrogen flow depends on application.
3) Value at ultimate pressure.
Roots Type MU Series for Light Process Roots Type Dry Pump MU100N/300