Ion Gauge M-311HG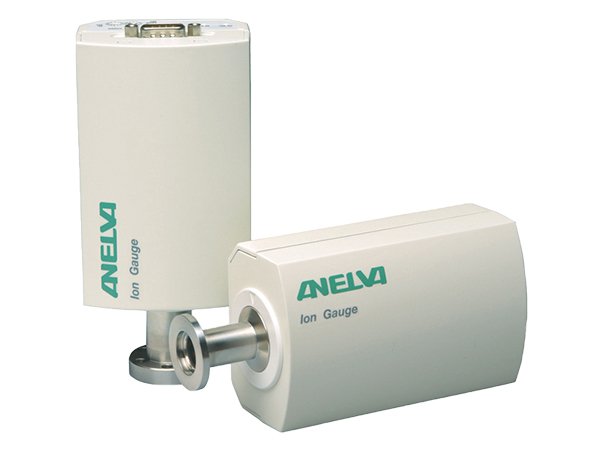 This is a transducer vacuum series ion gauge. Ion gauge (hot cathode ionization vacuum gauge) is an excellent vacuum gauge with good repeatability and linearity and wide pressure measurement range. It uses a proven miniature gauge (MG-2I) as sensor.
Components
Features
Wide pressure measurement range
From 10-7Pa to 10Pa, capable of measuring low vacuum below the sputtering process without sacrificing the ultra-high vacuum end characteristic.
High response analog output
Excellent response with analog signal output of pressure value within 100ms to enable use in process pressure control.
Four emission current setting modes
Selectable according to application to improve filament life during use in high pressure range.
Applications
Production use vacuum equipment pressure measurement
Semiconductor sputtering equipment pressure measurement
Various vacuum equipment
Options
Display equipment supporting the series is available.
Large digital LCD for easy viewing.
Significantly improved operability.
Select between 1ch type or 3ch type according to your needs.
Specifications
Type
Ion Gauge
M-311HG‐SP
M-311HG‐RS
Pressure measurement range
1×10-7

to 10Pa
Input voltage
20 to 28VDC
Power consumption
12W
Analog output
0 to 10 V
-
Set point
2-point relay output
Interface
-
RS485
I/O connector
Dsub-9 (Male)
Maximum cable length
200m (1mm2)
Operating temperature range
5 to 50℃
Storage temperature range
-20 to 70℃
Sensor Type
Miniature B-A Gauge (MG-2I Series)
Sensor material (main component)
Filament: Y2O3/Ir, Case: SUS304
Dimensions (mm)
110×70×50
Flange shape
NW16, NW25, ICF34, ICF70
Conformity
CE marking, RoHS, IP40
Dimensions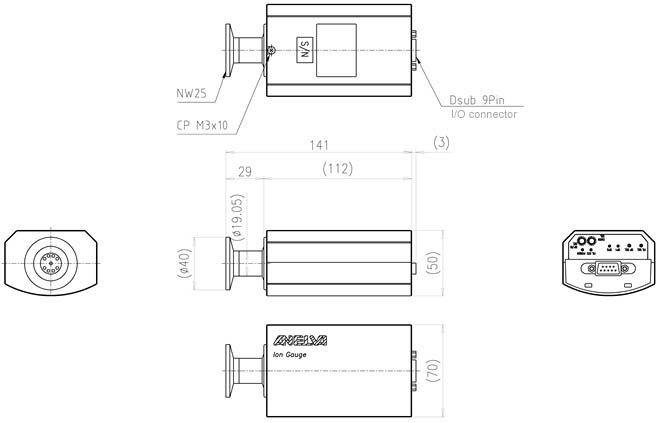 Parts Number
| | | | | |
| --- | --- | --- | --- | --- |
| Parts Number | Model | Description | Remarks | Code |
| 0161-78390 | M-311HG-SP/N16 | Ion Gauge | w NW16 Flange | 22670 |
| 0161-78405 | M-311HG-SP/N25 | Ion Gauge | w NW25 Flange | 22671 |
| 0161-78413 | M-311HG-SP/C70 | Ion Gauge | w φ70ICF Flange | 22672 |
| 0161-78421 | M-311HG-SP/C34 | Ion Gauge | w φ34ICF Flange | 22673 |
| 0161-78439 | M-311HG-RS/N16 | Ion Gauge (RS485) | w NW16 Flange | 22674 |
| 0161-78447 | M-311HG-RS/N25 | Ion Gauge (RS485) | w NW25 Flange | 22675 |
| 0161-78455 | M-311HG-RS/C70 | Ion Gauge (RS485) | w φ70ICF Flange | 22676 |
| 0161-78463 | M-311HG-RS/C34 | Ion Gauge (RS485) | w φ34ICF Flange | 22677 |