Crystal Gauge M-320XG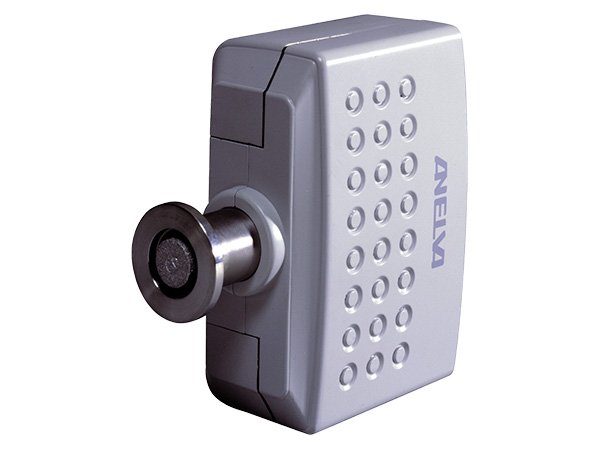 Enables a wide range of highly reliable measurement from atmospheric pressure to 1×10-1Pa.
Provides excellent repeatability and constant measurement near atmospheric pressure through the use of phenomenon where crystal oscillator's resonant impedance changes according to pressure.
It can be used as a chamber atmospheric pressure vent detection pressure switch or for process pressure measurement.
Components
Features
Wide measurement range
Enables measurement with excellent repeatability from atmospheric pressure to 1×10-1Pa.
High stability
Crystal gauge is a vacuum gauge with no source of heat (filament).
Enables safe handling without affecting process gas.
Compact and ultra-light weight
The controller fits in the palm of your hand weighing only 200g.
Applications
Roughing pump pressure measurement of various vacuum equipment
Various process pressure measurement
Detection pressure switch for chamber vent, etc.
Other pressure measurements from atmospheric pressure to 10-2Pa
Specifications
Type
M-320XG
Measurement ball
XG-1 Crystal Gauge Head (exclusive for crystal gauge)
Pressure monitor range
1×10-2Pa to atmospheric
Measurement pressure range
1×10-1Pa to atmospheric
Gas type selections
N2, Ar, H2, Air
Analog output
(pressure signal)
0 to 10VDC: Set output format of following items with digit switch
1. Log output
2. Multiple output
3. Linear output Full scale pressure range selectable (1×101, 1×102, 1×103, 1×104, 1×105Pa)
Remote I/O
INPUT
1. Set gas type switch with 2-bit signal
2. Zero adjustment
3. ATM setting
OUTPUT
2 set point output
Set point
2 points (photocoupler output, fixed hysteresis)
Set with digit switch (SP1, SP2 mantissa, exponent)
Operating environment
5℃ to 50℃ (including controller)
Gauge head only withstand temperature 150℃ MAX
Zero adjustment
PUSH switch or software adjustment by remote I/O
Full scale adjustment
Adjustment by trimmer
I/O connector
Dsub 15P
Display
LED ×3 (PWR/ALM (Green/Red), SP1-Status (Green), SP2-Status (Green))
Power requirements
22 to 33VDC, (maximum power consumption 2W)
Dimensions (mm)
72.5H×102W×44.5D (excluding gauge head)
Weight
200g (excluding gauge head)
Sensor attaching flange
NW16, NW25, φ34ICF, φ70ICF
Dimensions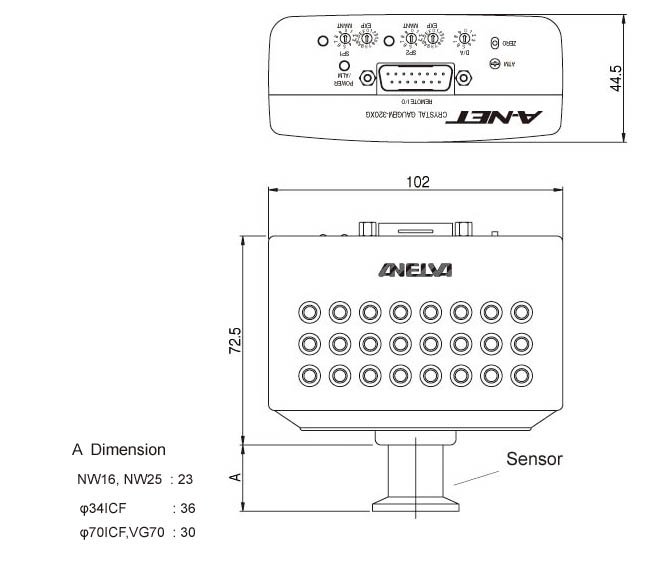 Parts Number
| | | | | |
| --- | --- | --- | --- | --- |
| Parts Number | Model | Description | Remarks | Code |
| 89-2282 | M-320XG | A-NET Crystal Gauge Controller | Only Controller | 21560 |
| 89-4020 | M-320XG/N16 | A-NET Crystal Gauge | Controller + Crystal Gauge (w NW16) | 21561 |
| 89-4021 | M-320XG/N25 | A-NET Crystal Gauge | Controller + Crystal Gauge (w NW25) | 21562 |
| 0160-01365 | M-320XG/C34 | A-NET Crystal Gauge | Controller + Crystal Gauge (w PY34ICF) | 21580 |
| 0160-01373 | M-320XG/C70 | A-NET Crystal Gauge | Controller + Crystal Gauge (w PY70ICF) | 21581 |
| 0160-01357,M | M-320XG/VG70 | A-NET Crystal Gauge | Controller + Crystal Gauge (w PY70VG) | 21582 |
| H21-03280 | XG-1/NW16 | Crystal Gauge Head with NW16 | | 21575 |
| H21-03281 | XG-1/NW25 | Crystal Gauge Head with NW25 | | 21576 |
| 0161-17920 | XG-1/ICF34 | Crystal Gauge Head with PY34ICF | | 21577 |
| 0161-17938 | XG-1/ICF70 | Crystal Gauge Head with PY70ICF | | 21578 |
| 0161-44888 | XG-1/VG70 | Crystal Gauge Head with PY70VG | | 21579 |
| 89-2314 | M-390 | A-NET Display Unit | for M-320XG | 21563 |
| H21-03614 | M-391 | A-NET Display Unit | w/o Cable | 21583 |
| 89-2316 | 390-05CR | A-NET Cable for Display Unit (for Crystal Gauge 5M) | | 21565 |
| 0161-37475 | 390-03BA | A-NET Cable for Display Unit (for Ion Gauge 3M) | | 21567 |
| 0161-37491 | 390-10BA | A-NET Cable for Display Unit (for Ion Gauge 10M) | | 21568 |
| 0161-37506 | 390-15BA | A-NET Cable for Display Unit (for Ion Gauge 15M) | | 21569 |
| 0161-37514 | 390-20BA | A-NET Cable for Display Unit (for Ion Gauge 20M) | | 21570 |
| 0161-37409 | 390-03CR | A-NET Cable for Display Unit (for Crystal Gauge 3M) | | 21571 |
| 0161-37425 | 390-10CR | A-NET Cable for Display Unit (for Crystal Gauge 10M) | | 21572 |
| 0161-37433 | 390-15CR | A-NET Cable for Display Unit (for Crystal Gauge 15M) | | 21573 |
| 0161-37441 | 390-20CR | A-NET Cable for Display Unit (for Crystal Gauge 20M) | | 21574 |