Cold Cathode Pirani Gauge M-361CP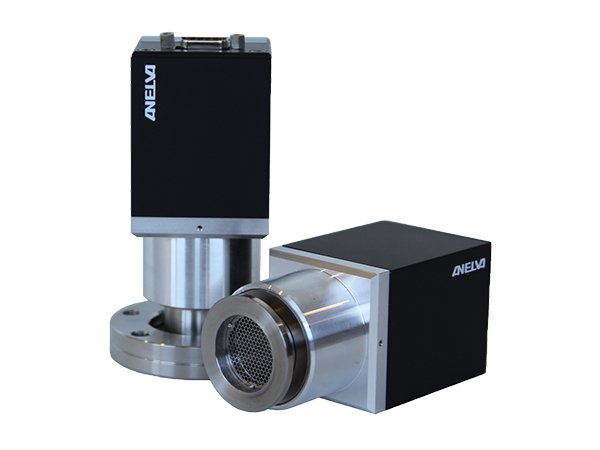 M-361CP is a combination gauge combining pirani gauge measuring atmospheric pressure to medium vacuum and cold cathode gauge measuring high vacuum to ultra-high vacuum.
Wide range measurement is realized by just one gauge.
2in1: Contributing to system cost reduction.

Components
Features
Excellent measurement stability
Reducing switching fault of pirani and cold cathode,measurement stop due to undischarge and fluctuation of pressure indication value.
Excellent atmospheric pressure detection
Good measurement around the atmospheric pressure area by pirani gauge.
Responsiveness is equal to diaphragm gauge.
Simple maintenance
Only maintenance kit exchange for a part of the cold cathode gauge.
*The ignition of CC gauge may be delayed significantly under conditions of high partial pressure of active gas such as H2 and O2, or large volume use of these gases. Please contact us when using the gauge under conditions of these gases.
Applications
Widely applicable for vacuum measurements from atmospheric pressure to ultra-high vacuum

Electronics and Optics: vacuum evaporation, coating, electron beam mask writing, sputtering, ion implantation, MBE
Analysis: SEM, SIMS, AES, XPS, and other analysis methods using any vacuum processes
Industrial: anneal, dissolution, soldering, reflow, curing, electron beam welding, metallurgy, molecular distillation, gas filling
High Energy Physics: accelerator, cyclotron
Specifications
Type

Cold Cathode Pirani Gauge

M-361CP-SP




Type with Set Point

M-361CP-RS




RS485 Type

Pressure measurement range

1×10

-7

to 1×10

5

(Pa)

Input voltage

+15 to 30VDC

Power consumption

2.4W

Analog output

0 to 10V

-

Set point

2 contact output (DC30V, 1A)

Interface

-

RS485

I/O connector

D-sub 9 pin (available with conversion connector)

Maximum cable length

300m (1mm

2

)

*1

Operating temperature range

5 to 55℃

Storage temperature range

-20 to 70℃ (not operating)

Sensor Type

CP2

Sensor material (main component)

Filament: W, Electrode: Mo, Insulator: Al

2

O

2

, Case: SUS304

Dimensions (mm)

50(W)×50(D)×110(L) (NW25)

Flange shape

NW25, NW40, φ70ICF

Conformity

CE marking, RoHS, IP40
*1 The maximum length of the gauge cable is 100m when connecting an M-601/603GC display unit.
Dimensions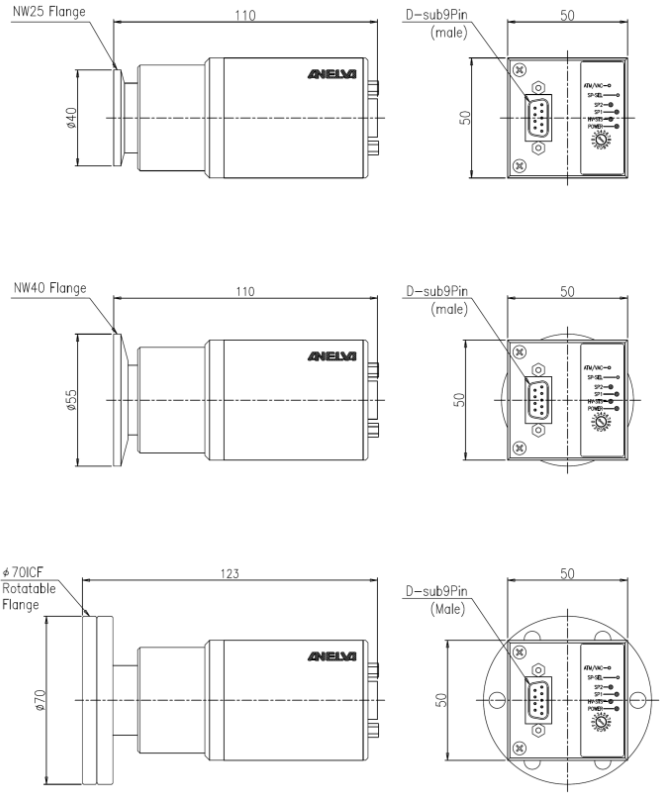 Parts Number
| Parts Number | Model | Description | Remarks | Code |
| --- | --- | --- | --- | --- |
| 0160-12463M | M-361CP-SP/N25 | Cold Cathode Pirani Gauge | w NW25 Flange | 22800 |
| 0160-12471M | M-361CP-SP/N40 | Cold Cathode Pirani Gauge | w NW40 Flange | 22801 |
| 0160-12489M | M-361CP-SP/C70 | Cold Cathode Pirani Gauge | w φ70ICF Flange | 22802 |
| 0160-12497M | M-361CP-SP/N25 | Cold Cathode Pirani Gauge (RS485) | w NW25 Flange | 22803 |
| 0160-12502M | M-361CP-SP/N40 | Cold Cathode Pirani Gauge (RS485) | w NW40 Flange | 22804 |
| 0160-12510M | M-361CP-SP/C70 | Cold Cathode Pirani Gauge (RS485) | w φ70ICF Flange | 22805 |
| 0162-24379M | - | M-361CP/370CG Maintenance kit | Pole piece, Mesh | 22790 |
Cold Cathode Pirani Gauge M-361CP