"V Series" Roughing pump valve V-025RV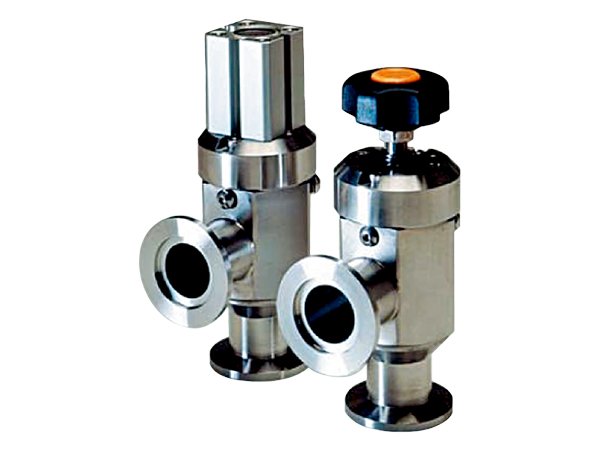 This is a type-L valve that can be used in high vacuum range of up to 10-4Pa. This valve uses fluoro rubber (Viton) O-Ring for the vacuum seal and the shaft seal. Ideal as a valve for high vacuum equipment, or a roughing pump valve for the ultra-high vacuum equipment
Components
Features
Can be used up to high vacuum range
Can be used in high vacuum range of about 10-4Pa. (Fluorine grease is used only on the shaft seal.)
Open/Close position sensor switch
The air cylinder used in the compressed air powered valves has a position sensor switch for opening and closing.
Specifications
Drive system
Air pressure
Manual
Type
V-025RV-CN
V-025RV-MN
Pressure range
Atmospheric to 10-4Pa
He leak*1
Stationary
6.7×10-11Pa·m3/sec or less
Open/close
up to 10-5Pa·m3/sec
Conductance
7L/sec
Allowable heating
temperature
60℃
Main
component
material
Main unit
SUS-304
Moving part
AL alloy (air sealing)
Nylon 66, polypropylene (handle)
Vacuum
seal
material
Fluoro rubber (Viton) O ring (main seal, shaft seal, bonnet seal)
Shaft seal lubricant: Perfluoropolyether grease
Operating air pressure
0.4 to 0.6 MPa
-
Air consumption
(L /cycle)*2
0.024
-
Air supply inlet
M5
-
Open/close sensor
* See sensor switch specifications
-
Used fluid
Atmosphere or gas (excluding corrosive gas)
Weight
0.63kg
0.58kg
Connection flange*3
NW25 flange
* 1. Gas permeation of the fluoro rubber (Viton) O-Ring is out of specification.
* 2. Air consumption of 1 cycle (open-close) 0.5MPa air pressure.
* 3. NW25 flange is a clamp flange for vacuum equipment, using elastomer gaskets (mainly fluoro rubber). For details, please refer to the Quick Coupling section of our Vacuum Components plumbing parts catalogue.
"V Series" Roughing pump valve V-025RV