Isolate Valve V-025SV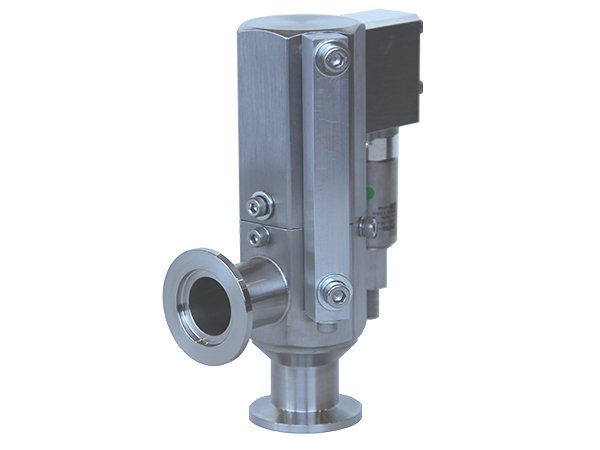 V-025SV isolate valve is to be connected to the inlet of rotary vane pumps.
It is an automatic valve equipped with cut valve and vent valve functions and prevents backflow of pump oil due to power outage or improper operation of the vacuum systems.
Components
Features
When the rotary vane pump stops, the vacuum system is automatically cut off (vacuum locked).
The pump side is then vented to prevent the pump oil from flowing back into the vacuum system.
Since the valve uses the vacuum created by the pump as the drive source, it does not require compressed air or pipes like conventional automated valves. (The valve does not open when the pump is not operating.)
This valve does not require any special control circuit. It can be controlled by interlocking the power supply for the built-in solenoid valve with the motor for the pump.
Specifications
Type
V-025SV-1AC
V-025SV-2AC
Range of operating pressure
Atmospheric to 10-2Pa
Leak amount
<5x10-7Pa·m3/sec
Conductance
420 L/min (Values for 20℃ air in molecular flow range)
Maintenance interval
30,000 cycles or 1 year
Main material
Fluoro rubber O ring: Main seal, bonnet seal, and shaft
Nitryl rubber: Piston, screw seal
SUS304: Body, valve, spring
Aluminum alloy: Base, piston, air pipe
Silicon grease: Shaft seal lubricant
Connection flange
NW25 flange
Fluid used
Atmosphere or gas (excluding corrosive gas)
Usage environment
Ambient temperature 10℃ to 40℃
Solenoid
Rated voltage
100V AC (50/60Hz)
200V AC (50/60Hz)
Starting current
0.03A
0.015A
Holding current
0.03A
0.015A
Power consumption
3W
Coil insulation Class
Class B (130℃)
Dimensions
See the Dimensions diagram
Weight
1kg
Dimensions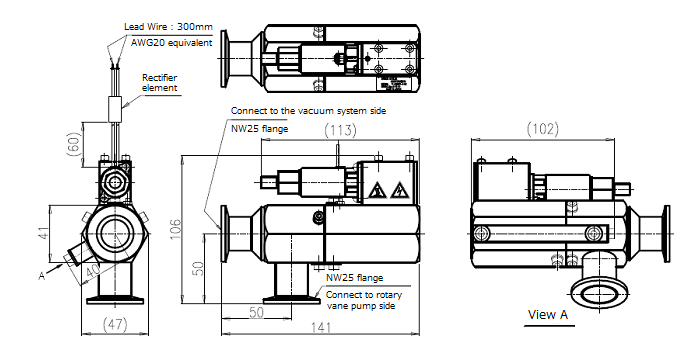 Option

Parts Number
| | | | | |
| --- | --- | --- | --- | --- |
| Parts Number | Model | Description | Remarks | Code |
| 0190-12616 | V-025SV-1AC | Isolate Valve | With NW25 flange, 100V AC | 31095 |
| 0190-12624 | V-025SV-2AC | Isolate Valve | With NW25 flange, 200V AC | 31096 |
| | | Solenoid valve cover | Option (require special arrange) | 31098 |