Helium Leak Detector HELEN Series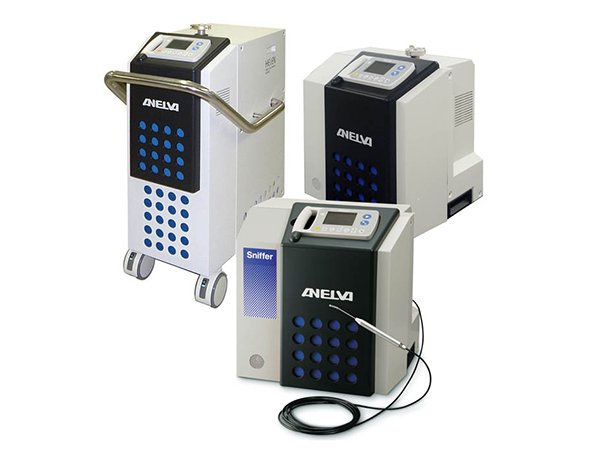 Helium Leak Detector HELEN Series
M-212LD(-D)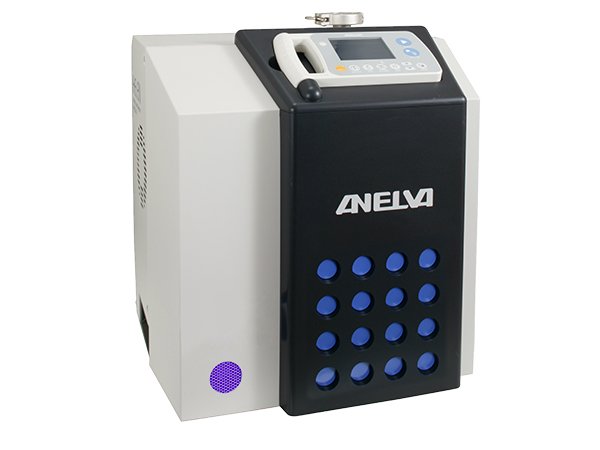 Suitable for inspection and field maintenance of various vacuum equipment
Compact leak detector for various vacuum components.
M-222LD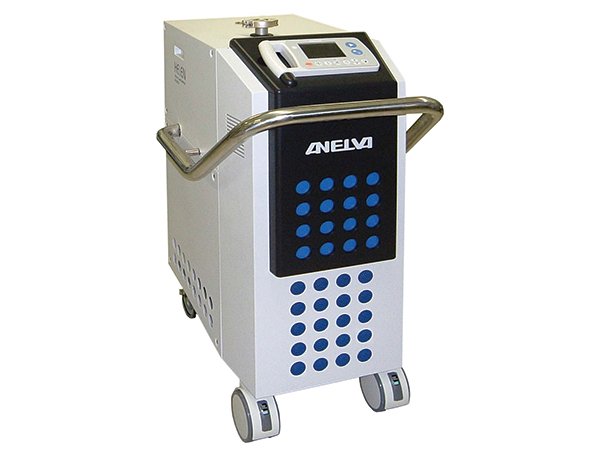 Maintenance of various vacuum equipment.
Leak test of various large-scale vacuum containers such as accelerators.
Leak system analyzer.
M-222LD-D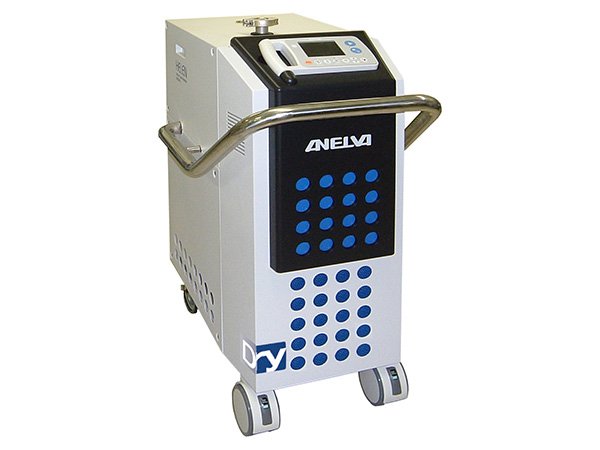 Support for clean room.
Enables oil-free leak test.
Maintenance of various vacuum equipment.
M-232LD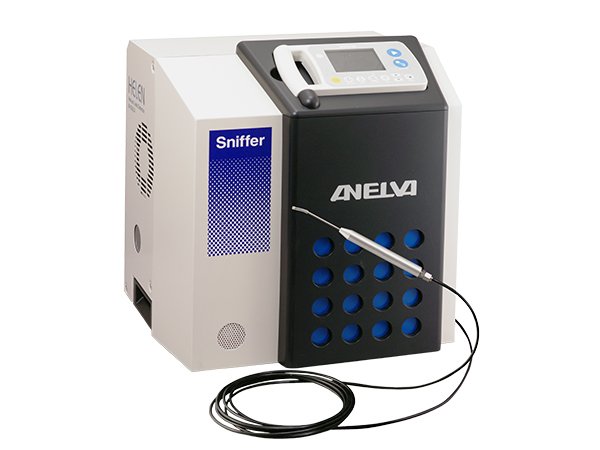 Gas supplying system, vacuum component, and piping component leak test
Automotive parts and air conditioning freezer leak test.
Food and pharmaceutical package leak test.
Water and various gas pipe leak test.
Components
Features
Simple operation
Equipment startup to measurement with a touch of a button.
Industry leading sensitivity, stability, and response
High sensitivity of 10-12Pa·㎥/s and high stability enabling long term use.
Portable
Equipped with large casters and handle making it suitable for field maintenance use.
Durable robust design
Use of long-life tungsten filament to enable long term high-sensitivity measurement. Robust design enabling installation in a 24-hour operation system.
Specifications
Standard Type
Type
M-212LD
M-212LD-D
M-222LD
M-222LD-D
M-232LD

features

Compact

Compact




& dry pump

High power

High power




& dry pump

Sniffer

Quantitative measurement range




(Pa・m

3

/sec)

10

-12

to 10

-3
10-6 to 10-1
(10-2 to 105ppm)

Inlet port




exhaust speed




(He)(L/sec)

Gross
Mode
0.5
-
1.8
2.0
Probe suction speed
0.3Pa・m3/sec
Middle
Mode
2.0
1.0 (Middle2)
4.0 (Middle1)
2.0
2.0
Fine
Mode
-
7.0
-
-

Inlet port size

NW25 (ISO)
Sniffer Probe

Main pump

Type

Turbo molecular pump

Pumping speed




(L/sec)

50
70L/sec
50L/sec

Roughing pump

Type

Rotary pump

Diaphragm pump

Rotary pump

Scroll type




dry pump

Rotary pump

Pumping speed




(L/min)

30

15

236

250

30
+ Diaphragm pump

External communication interface

RS-232C




Analog output (2 points)・Standard I/O

Display

4.1-inch Color LCD

Sniffer probe

Option




(Model:981-9371)

Option




(please require to




contact)

Option




(Model:981-9371)

Standard

Electric power

100-120VAC, 8A

100-120VAC, 6.3A

100VAC, 15A

100-120VAC, 15A




200-240VAC, 10A

100-120VAC, 8A

Dimensions




(W×H×D)(mm)

435×487×364
462×867×715
435×470×363

Weight (kg)

42
39

85

42
High sensitivity type ・ Large capacity roughing pump type
Type

M-222LD-H
M-222LD-D-H
M-222LD-D-H500

features

High sensitivity,




& High power

High sensitivity,




high power,




& dry pump

High power




& dry pump of 500L

Quantitative measurement range




(Pa・m

3

/sec)

10

-13

to 10

-3

10

-12

to 10

-3

Inlet port




exhaust speed




(He)(L/sec)

Gross
Mode
1.8
2.0
3.5
Middle
Mode
4.0
4.0
4.0
Fine
Mode
7.0
7.0
7.0

Inlet port size

NW25 (ISO)

Main pump

Type

Turbo molecular pump

Pumping speed




(L/sec)

70

Roughing pump

Type

Rotary pump

Scroll type




dry pump

Multi stage roots type




dry pump

Pumping speed




(L/min)

236
250
500

External communication interface

RS-232C




Analog output (2 points)・Standard I/O

Display

4.1-inch Color LCD

Sniffer probe

Option




(Model:981-9371)

-

Electric power

100VAC, 15A

100-120VAC, 15A




200-240VAC, 10A

100-120VAC, 8A

Dimensions




(W×H×D)(mm)

462×867×715

Weight (kg)

85
Helium Leak Detector HELEN Series