Quadrupole Mass Spectrometer(transducer type) M-070QA-TDF, M-101QA-TDF, M-101/201QA-TDM | Quadrupole Mass Spectrometers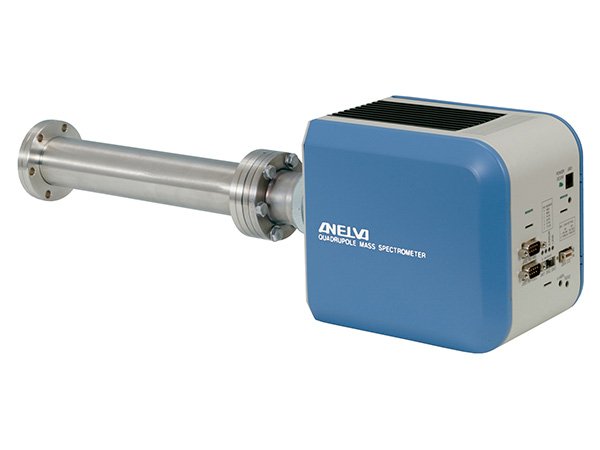 M-070QA-TDF, M-101QA-TDF, M-101/201QA-TDM
M-101QA-TDF and M-101/201QA-TDM are highly sensitive and functional quadrupole mass spectrometers with low gas emission that are exclusively designed to be controlled from a PC.
M-070QA-TDF is a low-cost version that is suitable for residual gas monitoring of various vacuum equipment.

Components
Features
High-sensitivity

Uses secondary-emission electron multiplier tube for detector (M-101/201QA-TDM)

Low gas emission analyzer tube

Uses low gas emission ion source

Provides degassing function (*1)

Excellent basic performance - Supporting advanced analysis -

Enables detailed setting of ionization voltage and emission current (*1)
*1: Excluding M-070QA-TDF.
Applications
Residual gas monitors, vacuum monitor for accelerators, inorganic gas analysis, thermal desorption gas analysis.
Specifications
Model
Standard model
High-sensitivity model
M-070QA-TDF
M-101QA-TDF
M-101QA-TDM
M-201QA-TDM
Basic
performance
Measurement
weight
range
1 to 70amu
1 to 100amu
1 to 100amu
1 to 200amu
Resolution
M/ΔM≧2M
Sensitivity
(N2)
FC
1.5×10-6A/Pa or greater
7.0×10-6A/Pa or greater
-
-
SEM
-
2.5A/Pa or greater
1.8A/Pa or greater
Minimum detected
partial pressure
6.7×10-9Pa or less
5.0×10-10Pa or less
1.0×10-12Pa or less
1.0×10-12Pa or less
Operating pressure
1.3×10-2Pa or less
Dynamic range
6 digits
7 digits
Specifications
Detector
FC
◯
◯
◯
◯
EM
-
◯
◯
Ion source
Cage type
Cage type (Option: box type*1)
Filament
Yttria coated iridium×2
Yttria coated iridium×2
Option: Tungsten*1
Baking temperature
250℃(Analyzer tube only)
Degas function
-
Electron bombardment
Connection flange
φ70ICF
Rated input voltage
100V to 240VAC
Maximum power
consumption
60W
90W
Weight
Analyzer
tube
1.5kg
1.4kg
1.6kg
Controller
2.1kg
2.2kg
Communication interface
RS-232C/485
Standard software
QUADVISION
Conformity
CE marking, RoHS
*1. Please contact us for specifications of options.
Quadrupole Mass Spectrometer(transducer type) M-070QA-TDF, M-101QA-TDF, M-101/201QA-TDM | Quadrupole Mass Spectrometers