Quadrupole Mass Spectrometers(high-speed/high-sensitivity measurement) M-401QA-MU/G | Quadrupole Mass Spectrometers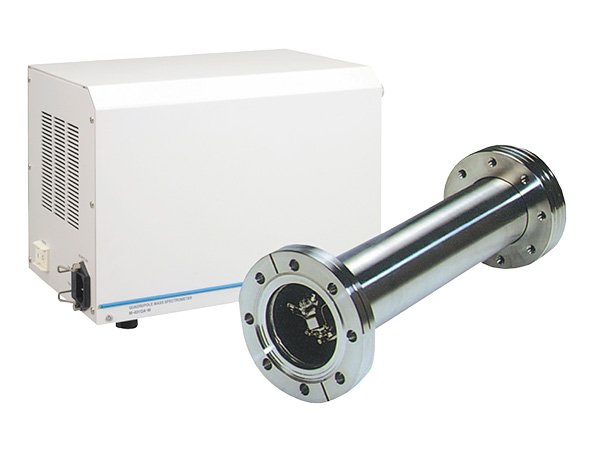 This is a high-performance/high-functionality quadrupole mass spectrometer capable of mass measurement from 1 to 410m/z.
As a general purpose mass spectrometer, M-401QA-MGSY/ MUSY has realized high-speed measurement up to 10 times faster than our previous product.
Components
Features
High-speed measurement support (M-401QA-MGSY/MUSY)
Obtains data with M/e = 1 to 400m/z at 1 second interval
Two types of ion source
Selectable between UHV type (cage type) and gas feed through type (box type)
High-sensitivity (M-401QA-MGHY/ MUHY)
8-digit dynamic range
Low gas emission analyzer tube
Uses low gas emission ion source, degassing function available
Applications
Accelerator vacuum gas monitors
Inorganic gas analysis
Thermobalance emission gas analysis
Thermal desorption gas analysis
Trace gas analysis
PFC gas analysis
Specifications
Model
High-speed type
High-sensitivity type
M-401QA-MGSY
M-401QA-MUSY
M-401QA-MGHY
M-401QA-MUHY
Basic
performance
Weight
1 to 410 m/z
Resolution
M/ΔM≧2M
N2
sensitivity
SEM
4.0×10-1A/Pa
4.0A/Pa
4.0×10-1A/Pa
4.0A/Pa
Minimum detected
partial pressure
≦5.0×10-12Pa
≦1.0.0×10-12Pa
Maximum operating
pressure
1.3×10-2Pa or less
Dynamic range
7 digits
8 digits
7 digits
(high-speed)
5 digits
-
-
Specifications
Ion source shape
Gas inlet type
(box type)
UHV type
(cage type)
Gas inlet type
(box type)
UHV type
(cage type)
Filament type
Yttria coated iridium*1
Baking temperature
300℃(Analyzer tube only)
Degas function
Ion source heater
Electron bombardment
Ion source heater
Electron bombardment
Sweep speed
1mSec/amu -
10mSec/amu -
Connection flange
φ114ICF
Rated input voltage
100V to 240VAC
Maximum power
consumption
300W
Weight
Analyzer
tube
5.1Kg
Controller
6.2Kg
Communication
interface
RS-485/USB
Standard software
QUADVISION
Conformity
RoHS
*1. Optional filament meterials are available. Please contact us for details.
Quadrupole Mass Spectrometers(high-speed/high-sensitivity measurement) M-401QA-MU/G | Quadrupole Mass Spectrometers