Wide Range Ionization Vacuum Gauge M-431HG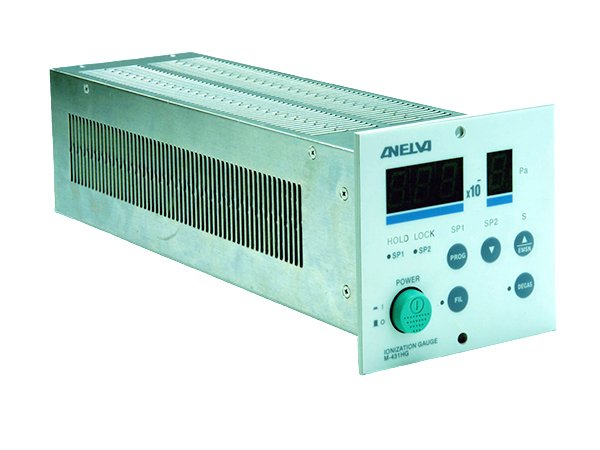 M-431HG is a space-saving light weight vacuum control power supply made exclusively for miniature gauges.
Components
Features
Standard equipped with external I/O and RS-232C communication functions
Input voltage is wide voltage
Conformity with CE marking and RoHS
Applications
Automated vacuum equipment pressure measurement
Sputtering process pressure measurement and control
Multi-chamber system pressure measurement
General vacuum equipment pressure measurement
Specifications
Type

Pressure display range

0.01×10

-7

to 13.2×10

0

Pa

※1

Pressure display

Digital, measurement range auto switch

Set point

Standard equipped with 2 points (with hysteresis)

D/A output

Switch between Log or combined output (0 to 10V)

Analog output

0 to 10V (APC compatible output)

External control function




(Remote control)

INPUT

Filament ON/OFF, Parameter LOCK,




Filament switching, Degas ON/OFF, Range Hold

OUTPUT

Set point 1, 2, Filament ON/OFF status




Degas status, Filament 1/2 status

Communication function

RS232C standard equipped (9600, 4800, 2400, 1200bps)

Dimensions (mm), Weight

104W×99H×296D 1.2Kg

Power consumption

50VA 90 to 240VAC 50/60Hz

※2

Emission current

10μA, 100μA, 1mA (auto switched, or fixed)

Degas

Grid electrical heating method, 3 min timer

Filament switching

Key and remote I/O control

Filament protection

Filament OFF at 13.3×100 Pa

Standard configuration

Vacuum gauge main unit (measurement ball and cables not included)

Conformity

CE marking, RoHS
※1 About the measurement range, please refer to a section of miniature gauge MG-2.
※2 The cable included with the M-431HG is for use at 100V. Please contact us when using at 200V.
Dimensions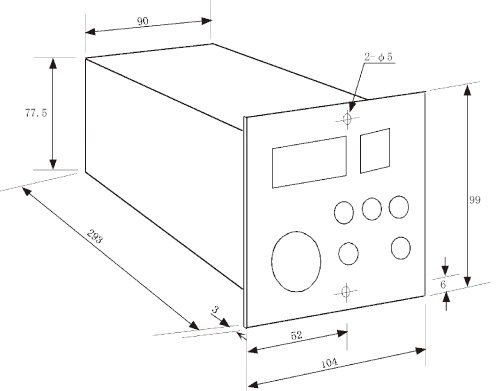 Parts Number
| Parts Number | Model | Description | Remarks | Code |
| --- | --- | --- | --- | --- |
| 0161-55554 | M-431HG | Wide Range Ion Gauge | Controller for Miniature Gauge only, w/o Cable / Gauge Head | 21685 |
| H21-03430 | 430-901 | Cable for Miniature B-A Gauge (5M) | for MG-2/2F, Standard Cable | 21672 |
| H21-03432 | 430-902 | Cable for Miniature B-A Gauge (10M) | for MG-2/2F | 21673 |
| H21-03433 | 430-903 | Cable for Miniature B-A Gauge (15M) | for MG-2/2F | 21674 |
| 0161-24189 | 430-904 | Cable for Miniature B-A Gauge (20M) | for MG-2/2F | 21675 |
| 0161-44820 | 430-911 | Bakable Cable for MG-2 (5M) | Maximum Usable Temperature Range 250゚C | 21676 |
| 0161-44838 | 430-912 | Bakable Cable for MG-2 (10M) | Maximum Usable Temperature Range 250゚C | 21677 |
| 0161-36966 | 430-913 | Bakable Cable for MG-2 (15M) | Maximum Usable Temperature Range 250゚C | 21678 |
| 0161-36974 | 430-914 | Bakable Cable for MG-2 (20M) | Maximum Usable Temperature Range 250゚C | 21679 |
Wide Range Ionization Vacuum Gauge M-431HG