Wide Range Ionization Vacuum Gauge M-833HG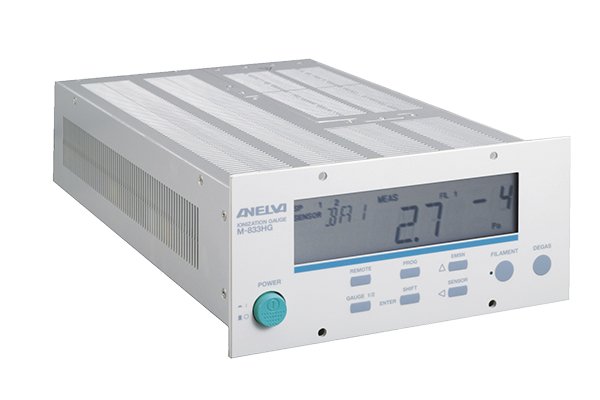 M-833HG is a control unit made exclusively for miniature B-A gauges. Optional expansion boards supporting versatile gauge and data output are available. The combination of miniature B-A gauge and TC gauge (option) and the use of auto filament that performs auto gauge switching enables highly accurate vacuum measurement from atmospheric pressure to ultra-high vacuum. Best suited for installation on high to ultra-high vacuum equipment.
Components
Features
Variety of external control functions enabling fully remote operation.
Standard equipped with two set points.
Highly expandable supporting up to four option boards. (Note: GP-IB option not supported.)
Conformity with CE marking and RoHS
Applications
Automated vacuum equipment pressure measurement
Sputtering process pressure measurement and control
Multi-chamber system pressure measurement
General vacuum equipment pressure measurement
Specifications
Type

M-833HG

Measurement ball

Miniature gauge MG-2 Series

Pressure display range

0.1×10

-7

to 1.32×10

1

Pa

※1

Pressure display

Measurement range auto switch

Set point

Standard equipped with 2 points (open collector)

D/A output

0 to 10V: Mantissa output, Exponent output




0 to 11V: Combined output or Log output

Analog output




(Electron meter output)

When set to APC mode (0.1 to 2.5V)




When set to normal mode (0.1 to 1.6V)

External control function




(Remote control)

INPUT

Filament ON/OFF




Degas ON/OFF




etc. (6 types of external control functions)

OUTPUT

6 types of status signal output

Special function

APC compatible: Range hold function




Electron meter output function

Dimensions and Weight

H99×W209×D330, 1.9kg (When no option boards are installed)

Power requirements

100 to 240VAC

※2


100VA or less, 50/60Hz

Emission current

10μA, 100μA, 1mA auto switched or fixed

Degas

Grid electrical heating method

Filament switching

Key and remote I/O control

Filament protection

Over range setting or emission current ±50% variation

Standard configuration

Vacuum gauge main unit (measurement ball and cables not included)

Conformity

CE marking, RoHS
※1 About the measurement range, please refer to a section of miniature gauge MG-2.
※2 The cable included with the M-833HG is for use at 100V. Please contact us when using at 200V.
Dimensions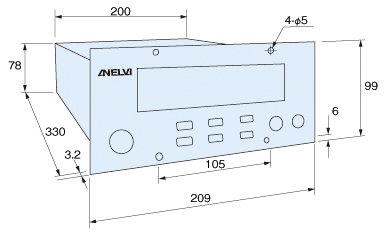 Parts Number
| Parts Number | Model | Description | Remarks | Code |
| --- | --- | --- | --- | --- |
| 0161-63816 | M-833HG | Wide Range Ion Gauge | Controller for Miniature Gauge only, w/o Cable / Gauge Head | 21734 |
| 0161-68604 | 722-TC | TC Gauge Board | | 21487 |
| 0161-70465 | 722-BCD | BCD Output Board | for M-722HG/M-822HG/M-922HG w Connecter | 21483 |
| 0161-70423 | 722-CM | CM.XTL Gauge Board | for M-722HG/M-822HG/M-922HG w Connecter | 21483 |
| P23-04131 | 722-SPB | Set Points Board | for M-722HG/M-822HG/M-922HG w Connecter | 21480 |
| H21-02971 | 722-232C | RS-232C Board | for M-722HG/M-822HG/M-922HG w Connecter | 21487 |
| H21-02966 | 722-GPIB | RS-232C Board | for M-722HG/M-822HG/M-922HG w/o Cable | 21484 |
| P23-01064 | 831-323 | Gauge Selector Box for MG-2 | for M-832HG, w Cable (to Unit 5M, to Gauge 2M)  | 21775 |
| H21-03430 | 430-901 | Cable for Miniature B-A Gauge (5M) | for MG-2/2F, Standard Cable | 21672 |
| H21-03432 | 430-902 | Cable for Miniature B-A Gauge (10M) | for MG-2/2F | 21673 |
| H21-03433 | 430-903 | Cable for Miniature B-A Gauge (15M) | for MG-2/2F | 21674 |
| 0161-24189 | 430-904 | Cable for Miniature B-A Gauge (20M) | for MG-2/2F | 21675 |
| 0161-44820 | 430-911 | Bakable Cable for MG-2 (5M) | Maximum Usable Temperature Range 250゚C | 21676 |
| 0161-44838 | 430-912 | Bakable Cable for MG-2 (10M) | Maximum Usable Temperature Range 250゚C | 21677 |
| 0161-36966 | 430-913 | Bakable Cable for MG-2 (15M) | Maximum Usable Temperature Range 250゚C | 21678 |
| 0161-36974 | 430-914 | Bakable Cable for MG-2 (20M) | Maximum Usable Temperature Range 250゚C | 21679 |
Wide Range Ionization Vacuum Gauge M-833HG