Ionization Vacuum Gauge M-723HG, M-823HG, M-923HG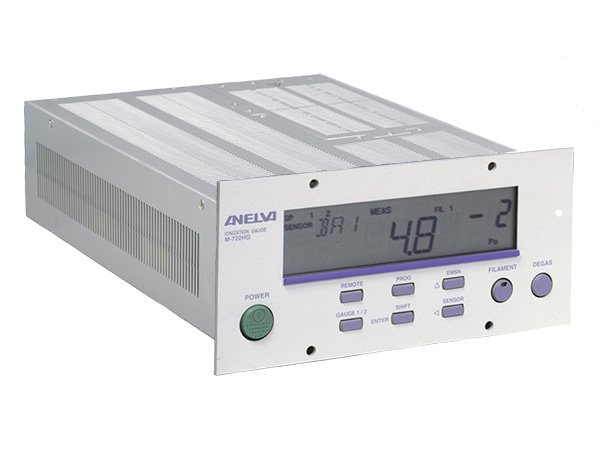 This is a series of most common B-A ionization vacuum gauges with abundant expansion board selection supporting a variety of gauges.
Standard equipped with remote control function and range hold function necessary for process control of vacuum equipment. A type capable of controlling communication with CC-Link is also available.
The M-823HG enables accurate measurement from atmospheric pressure to high vacuum range with a single device.
Components
Features
Automatically switched pressure range.
Pressures and messages are displayed on LCD.
Variety of external control functions enabling fully remote operation.
Standard equipped with two set points.
Applications
Automated vacuum equipment pressure measurement
Sputtering process pressure measurement and control
Multi-chamber system pressure measurement
Specifications
Type

M-723HG

M-823HG

M-923HG

Measurement ball

UGD-1S B-A Gauge Ball

BRG-1B Wide Range B-A Gauge Ball

NIG-2F/NIG-2TF




Nude Ion Gauge Ball

Pressure




measurement




range (Pa)

5 range auto switch




10

-2

, 10

-3

, 10

-4

, 10

-5

, 10

-6

7 range auto switch




10

-0

, 10

-1

, 10

-2

, 10

-3

, 10

-4

, 10

-5

, 10

-6

8 range auto switch




10

-2

, 10

-3

, 10

-4

, 10

-5

, 10

-6

, 10

-7

, 10

-8

, 10

-9

Measurement




range




switching

Auto switching (range hold possible)

Degas

Grid electrical heating method

Electron bombardment method

Filament switching

Can be switched from the front panel or by external control input (excluding M823HG)

Filament protection

Turns off automatically if there is a problem in the fluctuation range of pressure, ion current, or emission current.

Analog output

D/A output (mantissa D/A output, exponent D/A output, combined D/A output)




analogy raw output (electrometer output)

I/O remote

INPUT

Filament ON/OFF input,




degas ON/OFF input,




filament inhibit input,




range hold 1 input,




range hold 2 input,




filament switch input,




gauge 1/2 switch input (when using gauge select option)

OUTPUT

Filament ON/OFF output,




degas ON/OFF output,




remote/local output,




set point output (2 points),




gauge 1/2 select output (when using gauge selector option),




power ON/OFF output,




filament 1/2 output,




alarm output

Set point

Standard equipped with 2 set points (open collector)

Dimensions (mm)

H99×W209×D330

Power requirements

100VAC±10%2A, 50/60Hz (also supports 115/200/230VAC)

Weight

5.4kg (When no option boards are installed)

Standard configuration

Vacuum gauge main unit (measurement ball and cable are not included)
Dimensions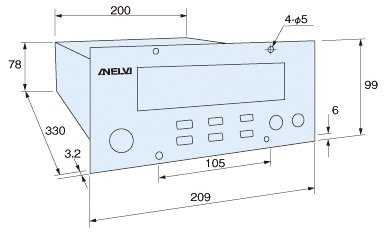 Parts Number
Parts Number

Model

Description

Remarks

Code

0161-80355

M-723HG

Ion Gauge

JIS Rack Type, for UGD-1S Gauge Head

21704

0161-80486

M-813HG

Wide Range Ion Gauge

JIS Rack Type

,

for BRG-1B Gauge Head

21728

0161-71445

M-923HG

UHV Vacuum Gauge

JIS Rack Type

,

for NIG-2F Gauge Head

21734

P13-06804

921-303

Gauge Selector Box (for M-922HG)

Cable for M-922HG (w Cable to Unit 5M・to Gauge 2M)

21745

P13-08435

721-303

Gauge Selector Box (for M-722HG/M-822HG)

Cable for M-722HG/M-822HG (w Cable to Unit 5M・to Gauge 2M)

21764

H21-01490

921-801

Rack Mount Panel

for M-722HG/M-822HG/M-922HG

21765

0161-68604

722-TC

TC Gauge Board

21487

0161-70465

722-BCD

BCD Output Board

for M-722HG/M-822HG/M-922HG w Connecter

21483

0161-70423

722-CM

CM.XTL Gauge Board

for M-722HG/M-822HG/M-922HG w Connecter

21483

P23-04131

722-SPB

Set Points Board

for M-722HG/M-822HG/M-922HG w Connecter

21480

H21-02971

722-232C

RS-232C Board

for M-722HG/M-822HG/M-922HG w Connecter

21487

H21-02966

722-GPIB

RS-232C Board

for M-722HG/M-822HG/M-922HG w/o Cable

21484

9-3428

820-901

Cable for B-A Gauge (5M)

for M-722HG/M-822HG, 5M

21645

9-3319

820-902

Cable for B-A Gauge

(

10M)

for M-722HG/M-822HG, 10M

21646

P13-14966

820-903

Cable for B-A Gauge (15M)

for M-722HG/M-822HG, 15M

21647

P13-14967

820-904

Cable for B-A Gauge (20M)

for M-722HG/M-822HG, 20M

21648

9-3429

921-901

Cable for Nude Ion Gauge

(

5M)
for M-922HG, 5M

21750

P13-14128

921-902

Cable for Nude Ion Gauge (10M)

for M-922HG, 10M

21751

P13-14129

921-903

Cable for Nude Ion Gauge (15M)

for M-922HG, 15M

21752

P13-14130

921-904

Cable for Nude Ion Gauge (20M)

for M-922HG, 20M

21753

0161-36411

921-911

Bakable Cable for Nude Ion Gauge (5M)

for M-922HG, Bakable 5M

21754

P13-22893

921-912

Extension Cable for Nude Ion Gauge (5M)
921-911 for Extension, 5M (total 10m)

21755

0161-36932

921-913

Extension Cable for Nude Ion Gauge (10M)

921-911 for Extension, 10M (total 15m)

21756

0161-36940

921-914

Extension Cable for Nude Ion Gauge (15M)

921-911 for Extension, 15M (total 20m)

21757
Ionization Vacuum Gauge M-723HG, M-823HG, M-923HG