Miniature Gauge MG-2/MG-2M/MG-2F MG-2/WF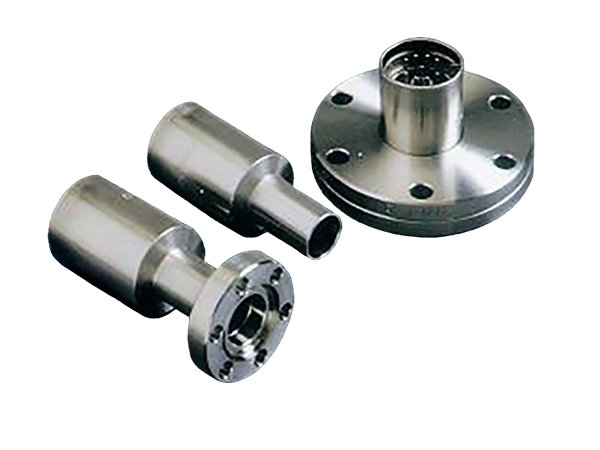 A miniature gauge is a small gauge ball made of metal.
It enables pressure measurement from ultimate pressure to process pressure of sputters (measurement around 1Pa) with a single gauge.
Connects to gauge adapter (O-ring insertion type). (φ15mm, φ18mm)
NW16/25, φ34ICF, and φ70ICF type are available.

Components
Specifications
Type

MG-2

MG-2M

MG-2I/




NW16,25

MG-2I/




φ34ICF,φ70ICF

MG-2F

MG-2/WF

Body material

SUS304

Maximum
pressure
measurement(Note 1)

13Pa

1.3×10

-1(Note 3)

Pa

Minimum




pressure




measurement

(Note 2)

Approx. 10

-6

Pa

Approx. 10

-7

Pa

Approx. 1.0×10

-5(Note 4)

Pa

Sensitivity

0.045Pa

-1

Filament

Two filaments built-in




Filament material: Yttria coated iridium wire

Two filaments built-in




Filament material: Tungsten

Measurement ball capacity

Approx. 12cc

Power




power

Filament




Grid degas

2.3W




1.0W

2.5W




1.0W

Degassing method

Grid electrical heating

Attachment method

Can be welded to φ15 gauge adapter or various flanges

φ18 gauge adapter

NW25, NW16

φ34ICF,
φ70ICF

Connect to φ70ICF flange

Can be welded to φ15 gauge adapter or various flanges
Dimensions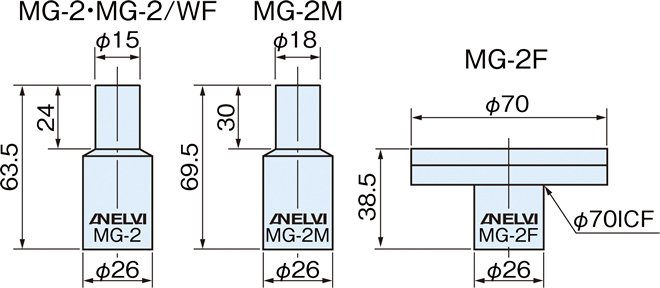 Various flange installation example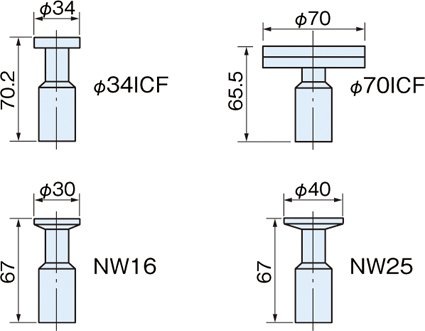 Parts Number
| Parts Number | Model | Description | Remarks | Code |
| --- | --- | --- | --- | --- |
| 0160-01234 | MG-2 | Miniature B-A Gauge Head | Connecter φ15 Type | 21160 |
| 0160-01284 | MG-2M | Miniature B-A Gauge Head | Connecter φ18 Type | 21162 |
| H21-03193 | MG-2I/NW16 | Miniature B-A Gauge Head with NW16 | | 21163 |
| H21-03194 | MG-2I/NW25 | Miniature B-A Gauge Head with NW25 | | 21164 |
| H21-03195 | MG-2I/ICF34 | Miniature B-A Gauge Head with ICF34 | | 21165 |
| P25-04306 | MG-2I/ICF70 | Miniature B-A Gauge Head with ICF70 | | 21166 |
| 0160-01268 | MG-2F | Miniature B-A Gauge Head | Connecter φ70ICF Type | 21161 |
| 0160-02222 | MG-2F/WF | Miniature B-A Gauge (Tungsten Type) | | 21167 |
| 89-4367 | MG-2WF | Miniature B-A Gauge Head | Tungsten Filament Type, Connecter φ15 Type | 21170 |
| 0161-02640 | MG-2WF/N25 | Miniature B-A Gauge Head W filament with NW25 | Tungsten Filament Type, Connecter φ15 Type | 21176 |
Miniature Gauge MG-2/MG-2M/MG-2F MG-2/WF